Shaken or Stirred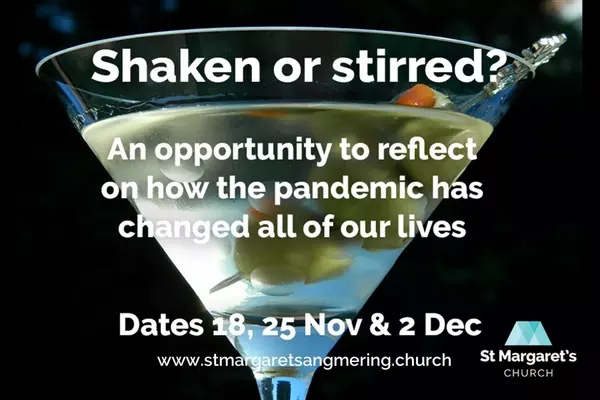 Bond is back! The new movie, "No Time to Die", held its world premiere at a suitably glittering occasion in London's Royal Albert Hall on the 28th September. The release marks the 25th Bond movie, with star Daniel Craig completing fifteen years on Her Majesty's Secret Service. It felt fitting, therefore, that members of the royal family were on hand to view the latest daring exploits of 007. But aside from Bond's heroics and the red carpet receptions, there is another story to tell about this 200 million dollar movie. "No Time to Die" is late. It was meant to be released in April 2020 but was delayed three times as cinemas worldwide were forced to close because of the Covid-19 pandemic. Even James Bond could not escape the reach of the virus that has changed our lives over the last eighteen months. James Bond has been in lockdown too.
Away from the stars and movie screens, the pandemic has hit everyone, sometimes in devastating ways. People have lost loved ones, lost their jobs, have been isolated from family and friends, have faced financial and emotional hardship, anxiety, fear and more. No-one has been left untouched or unmoved by the global spread of Covid-19. As a result, the pandemic has caused many people to think more deeply about serious questions: the value and fragility of life, what we rely upon and put our trust in, our values and priorities, etc. Some have been shaken by what has happened, some have been stirred into new directions, while others have experienced a mixture of emotions over the last 18 months. Whatever the details, the pandemic has caused many of us to stop and think about life and the future.
In response to the effects of the pandemic, St Margaret's church in Angmering is offering an opportunity for people to share in an open and honest discussion about how the pandemic has affected our values, foundations and priorities. The events are open to anyone from the local community interested in the topic. In a series of three Thursday evening sessions in late November/early December people can come together in a friendly atmosphere to listen, talk and reflect on what has happened and the effects the pandemic has had on each of us, including what difference a Christian faith can make under trying circumstances. As well as a chance for discussion, each evening will see a different person from our "frontline" services sharing something of their own experiences of the last 18 months. All this will be accompanied by light refreshments in the Church Hall.
Mark Standen, the Rector at St Margaret's, in commenting on the initiative, said: "We know that everyone has been affected in some way by Covid-19. As a Church we hope that opening our doors and hosting this conversation will help people make more sense of what has happened to them and their loved ones. These discussions touch on some of the most important areas of our lives. We certainly won't be pointing fingers or making political judgements! Rather, our aim is to allow space for people to meet and share their experiences as we prepare to face a different future together in our local communities."