Family Support Work
The Chichester Diocesan Association for Family Support Work (CDAFSW) helps disadvantaged families to overcome their difficulties through the offering of information on benefits, housing, health, advocacy and parenting. They also carry out home visits, provide support groups and direct people to other agencies for legal and financial issues. Families can also have short respite breaks away from home organised by their Family Support worker.
For more details visit Family Support Work or contact the team at CDAFSW, Garton House, 22 Stanford Ave. Brighton BN1 6AA or on 01273 832963.
Latest News and Updates
Andy's Dover to Cape Wrath achievement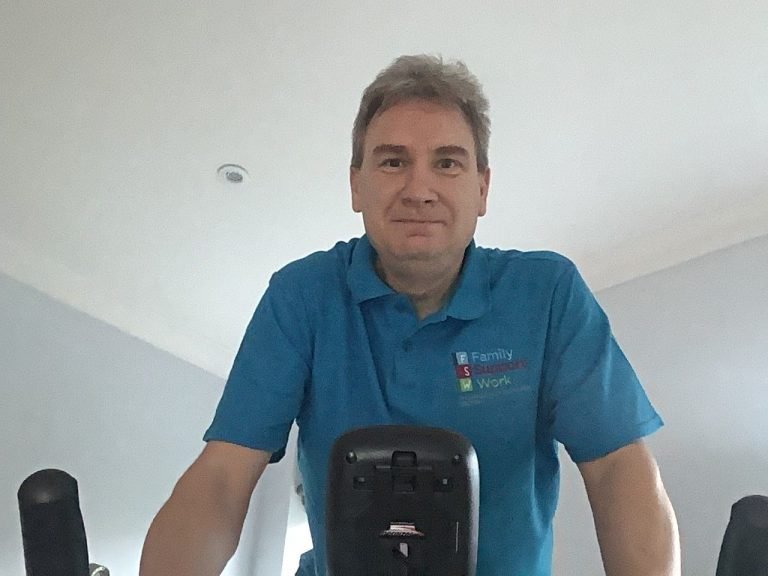 Many of you will hopefully be aware that Andy Hattersley has recently completed a virtual cycling challenge from Dover to Cape Wrath, raising over £1000 for FSW in the process. We are so grateful to Andy for his wonderful support, and asked him to write a little piece for this newsletter about what inspired him to take up this challenge. This is what he had to say:
"Too much Christmas pudding. Not much sloth. As I slumped after Christmas, I knew I needed to change gears. All I needed was a spark.
Up pops the Ultra Challenge in my Facebook Feed - the social media giants read minds and scan waistlines I think! I look across to my Christmas present, a new exercise bike and, without thinking, click on Option 5, 1400 km 'GB Coast 2 Coast'. What have I done? 30 miles a day for a month. How hard can it be ….? I click on Justgiving & pause.
Family Support Work was a good fit for my virtual pedal. FSW came to St Margarets church, Angmering, and spoke about their inspiring work with local families experiencing difficulties. Christmas, instead of a happy family time, for others can be a nightmare … rows, alcohol, abuse, breakdown. I am fortunate for a childhood in a love-filled, stable family home. Now in my 50s, I like to think my children would say likewise. But others in our family orbit are not so fortunate and we have had teenagers dropped to us by the police in the small hours for us to look after. The need for Family Support Work is vital.
Overall £1,300 was raised by the time I finished. The generous support of family, church family friends, and colleagues as far afield as Rome, Houston & Singapore, was wonderful. I tracked the virtual ride on the challenge map, reflecting on the various milestones on Facebook & Just Giving posts … the White Cliffs,Thames, Peak District, Dales, Hadrian's Wall, Edinburgh, Forth Bridge, Loch Ness, the wilds of north Scotland and ultimately the lighthouse of Cape Wrath on the North West Coast of mainland Scotland. What a beautiful country we have … flashbacks to past holidays and inspiration to visit unknown places one day.
872 miles meant hard work, stiff legs & tiredness. But a competitive league table (I finished a creditable 4th), the mental boost of daily exercise and the rising funds for Family Support Work kept me going."
Peter begins his cathedral pilgrimage
Peter Gayler has this week begun a fascinating and unique fundraising event for us. Peter is making a pilgrimage to all the English cathedrals during 2022 and is attending a service in each one, to mark his 70th birthday earlier this year. Peter, accompanied by his wife Helen for some of the trips, will visit all 42 cathedrals plus Westminster Abbey (which is not a cathedral but is classed as a "Royal Peculiar"), and is hoping to encourage others to learn about the rich history of our cathedrals. Peter is starting his challenge with a visit to St Alban's, the oldest English cathedral, and will finish at Chichester later in the year. To follow Peter's progress (and to support his efforts with a donation), please visit his Justgiving page here, which will have regular updates and photos from his travels. Good luck Peter!